Who We Are
DT Collagen is a specialized branch of DT Pharmacy (established in 2005) that is dedicated to providing the highest quality dermatological skincare products. Our range of products is designed to address a wide variety of skin concerns, ranging from acne and aging to dryness and sensitivity. Our core value is to serve as your best companion, help revitalize your skin, making you feel confident in yourself.
We are passionate about bringing healthy and youthful skin to people, and this passion stems from our own experiences with other skincare products in the market. We have often encountered side effects or a lack of certain features in those products. For example, day creams may not offer sufficient protection against UV rays, or facial cleansers may not contain enough nourishing ingredients to keep the skin healthy and supple. This led us to wonder if there could be a skincare product that was clean, minimal, yet highly effective and that would meet all of our requirements.
To fulfill our dreams, we embarked on an intense research and development journey to create the perfect skincare solution. We experimented with many different formulas, and our manufacturing partner, The Pure Source based in the US, ensured that our products meet the highest quality standards. Our local pharmacy in Houston, Texas, has helped many people in their skincare journey. However, we know that there are many others who could benefit from our products, and we are determined to reach out to a wider market.
We firmly believe that EVERYONE DESERVES HEALTHY, BEAUTIFUL, GLOWING SKIN, and we want to provide them with the best possible solutions. Therefore, we are open to any negotiation with retailers who share our vision and who can help us expand our reach. By working together, we can help people achieve the healthy and youthful skin that they deserve.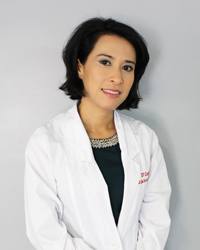 Dr. Dieu Thao Khoa Nguyen received her Doctorate in Pharmacy degree in 2004 from University of Louisiana at Monroe. After her graduation, Dieu Thao founded DT Pharmacy in 2005 with the goal to serve underserved residents in Pasadena city and surrounding areas. Under her leadership, the enterprise has relentlessly optimized its operation to provide affordable, genuine and dedicated healthcare services to the communities.
With a strong desire to support her fellow pharmacists and to give back to the community, Dieu Thao founded VAPHA in 2016. The organization was established to unify and empower Vietnamese pharmacists across the nation, promoting cultural identity and ultimately to practice social justice in these communities through a plethora of public engagement initiatives.
Additionally, she is also the Founder and CEO of DT Collagen providing beauty products to help women stay young and confident. Despite her busy schedule, Dieu Thao serves as a prominent motivational speaker at universities sharing her passion, experiences and insights from her pharmacy start-up to inspire pharmacy students and hone their technical and management skills.
Notable Accomplishments
Dieu Thao in the cohort of VAPHA team members has been instrumental in launching 13 health fairs that successfully service thousands of underserved Houstonians. The health fairs focus on delivering health screening services such as blood pressure, blood glucose and cholesterol, as well as immunizing Houstonians against influenza.
With support from other VAPHA executives and prestigious doctors, Dieu Thao hosts her own a radio talk show named "stay healthy and beautiful" on VIETRADIO AM 1560 to promote healthcare awareness and to provide consultation on health-related subjects and medicine to audiences.
Dieu Thao is an honorable community member and among the true legacies of Vietnamese Veterans of South Vietnam. She plays a pivotal role in coordinating the annual memorial parade and organizing yearly "Houston Cam on Anh" fund-raising Gala aimed at paying tribute to the heroes who fought and sacrificed for the independence of South Vietnam. The fund raised is utilized to provide sustained financial support to these Veterans in the US and Vietnam.

Worldwide Shipping
Free Shipping for all orders within the US.

Best Quality
As a branch of DT Pharmacy, our products are made with thoughtful considerations & expert knowdledge.

Best Offers
Along with many offers, deals & discounts, we also run giveaways & monthly vouchers for signup members.

Secure Payments
The payment process is 100% secure as we are using the best checkout system.
[dflip id="38565" ][/dflip]